Student Seminar for Global Citizenship and Peace
International Student Seminar for Global Citizenship & Peace 2022
'The Age of Artificial Intelligence: Opportunities and Concerns'
 3rd – 12th August 2022
We're delighted to announce the theme for the International Student Seminar for Global Citizenship & Peace 2022,   'The Age of Artificial Intelligence: Opportunities and Concerns'.  The seminar will take place from Wednesday 3rd August – Friday 12th August 2022.
INU member universities invite their students to apply to attend.  Please do contact the INU Council Member at your University  to express your interest in participating, or contact the INU Coordinator for further information:  inu@kingston.ac.uk
The deadline to apply is 27th April 2022. Please note individual institutions may set an earlier deadline.
Master's students may like to consider applying for the Master's Summer School for Global Citizenship and Peace, which coincides with the International Student Seminar and follows the same theme.
Theme for 2022 - 'The Age of Artificial Intelligence: Opportunities and Concerns'
Over the recent years we have been witnessing a new technological revolution, with developments in this area occurring at staggering speed and showing exponential growth. Within this paradigm, Artificial Intelligence technology occupies a central role in terms of both the opportunities it provides and the concerns it raises.
This year, the International Student Seminar aims to explore the debates and issues raised by the developments in the area of A.I. On the one hand, A.I.-enabled technologies are being heralded as a the future for urban design, mobility and services, with the concept of 'smart cities' gaining ground (see for example EU's briefing on 'smart cities, or Toyota's 'smart city' initiative in Japan). Equally, A.I. is seen as having the potential to enable sustainable development initiatives and to contribute to tackling the climate change crisis.
On the other hand, concerns are being raised with regard to automatization, and the social and economic threats it poses through labour human displacement, or with regard to enabling surveillance and the restriction of rights. More importantly, the weaponization of A.I. (through its use in Electronic Warfare or in the development and deployment of autonomous weapons) is seen as a growing concern for global human security (with reports from the United Nations Security Council that a fully autonomous weapon may have already killed people in 2021). The seriousness of these concerns is reinforced by United Nations' agreement to engage thoroughly with the issue of the ethics of artificial intelligence. However, a more robust attempt to pass an outright ban on fully autonomous weapons has so far been unsuccessful.
Considering the relevance of these issues, the seminar aims to provide an opportunity to explore and reflect on the debates concerning increasing growth of A. I. technology. The seminar will critically consider how A.I. is increasingly impacting our day-to-day life looking at the opportunities it can provide as well as at the dangers it poses.
---
Program Overview
The International Student Seminar for Global Citizenship and Peace is a unique immersion program which is usually hosted by Hiroshima University in Japan. The seminar welcomes students from around the world from INU member universities and is structured around the August 6 commemoration of the atomic bombing of Hiroshima.
The 10-day program includes lectures, case studies and small group discussions.  The program also offers field trips to local attractions and cultural learning experiences, and culminates in a United Nations role play where groups of students represent different countries.
The program also includes attendance of the Hiroshima Peace Memorial Ceremony on 6th  August.
Eligibility
Full-time students from INU member institutions who are willing to be challenged by an intensive academic and cultural program.
Who should apply?
The student seminar is designed for highly motivated students who are interested in:
Increasing their understanding of political, economic, social and cultural challenges emerging in an increasingly globalized world
Understanding the notion of global citizenship and considering their potential as global citizens
Deepening their appreciation of the challenges and payoffs of cross-cultural and international engagement
Sharing reflections with students, academics, and other seminar participants.
Application and Selection Process
Each INU member institution determines the application and selection process for students at their university. For more information, contact the international office at your institution, or contact the INU Coordinator.
Practical Information
The program schedule, accommodation information and reading lists will be provided to selected students in advance of the seminar.
Henry Fong Award
Upon successful completion of the Summer School, qualifying participants are encouraged to apply for a Henry Fong Award.  The award comprises a scholarship to study for a maximum of one semester at another INU member university and a stipend of $2,000 (USD) to support travel costs and living expenses.
Questions?
Please do contact the INU Coordinator: inu@kingston.ac.uk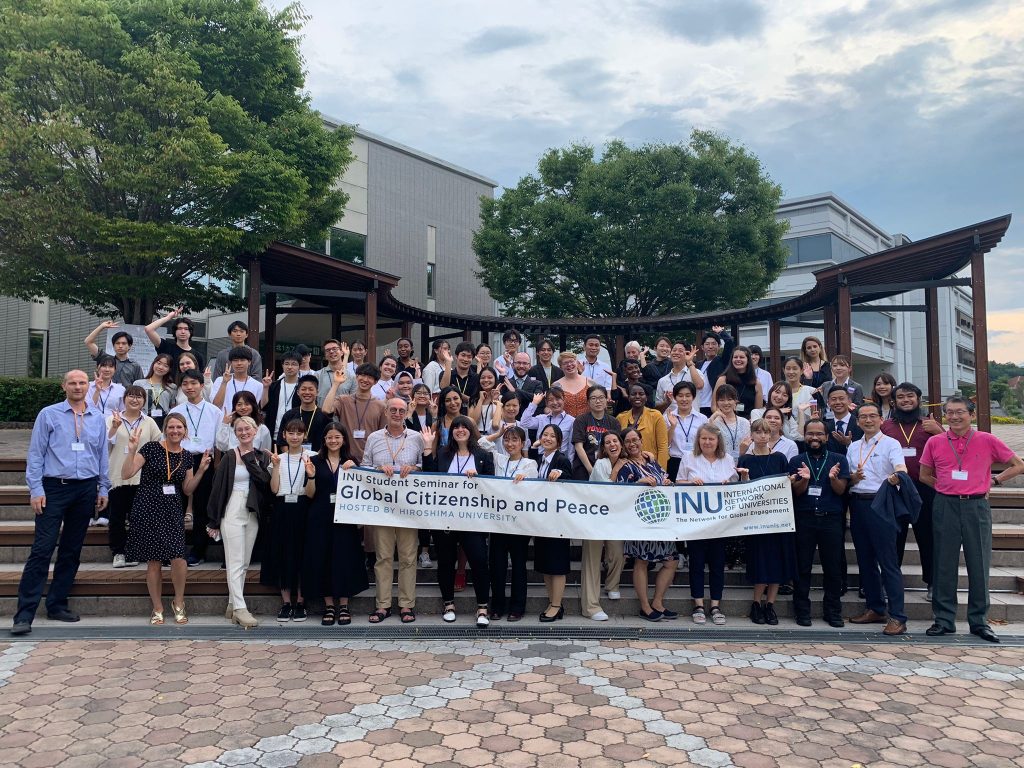 The INU Student Seminar features:
Lectures and workshops with academic experts and guest speakers from around the world;
Interactive seminars that encourage stimulating discussion and learning;
A role-play of a special session of the United Nations General Assembly;
A truly international student body
Highlights
"This was my first UN Role Play experience, and it gave me a greater understanding of gobal issues, especially when focusing on food and water insecurity"
"An incredible experience to have been able to share, learn and exchange with fellow students and teachers from all over the world and with different background"