Student Seminar for Global Citizenship and Peace
International Student Seminar for Global Citizenship & Peace 2023
 1 -10 August 2023, hosted by Hiroshima University
Program Overview
The International Student Seminar for Global Citizenship and Peace is a unique immersion program which is hosted by Hiroshima University in Japan.  Since 2006, the seminar welcomes students from around the world from INU member universities and is structured around the August 6 commemoration of the atomic bombing of Hiroshima.
The seminar prepares an international group of approx 60 students to live and learn as engaged global citizens. The Student Seminar provides students with a working knowledge of global citizenship and peace with a focus on cross-disciplinary problem, solving of real-world political, economic, social, and cultural problems. Workshops are delivered by Faculty from across INU member universities, with expertise across a range of disciplines relating to the theme.
The 10-day program includes lectures, case studies and small group discussions.  The program also offers field trips to local attractions and cultural learning experiences, and culminates in a United Nations role play where groups of students represent different countries, and negotiate to pass a draft resolution.
The program also includes attendance of the Hiroshima Peace Memorial Ceremony on 6th  August.
Master's students are encouraged to apply for Master's Summer School for Global Citizenship and Peace, which coincides with the International Student Seminar and follows the same theme and program structure.
Theme for 2023
Each year, the INU Student Seminar addresses a different theme.  In 2023, the theme of the seminar is on Climate Emergency and Action.
'Climate Emergency and Action'
Over the last year, two important factors have converged in articulating one of the most immediate global crises. On the one hand, the broader shift from a paradigm of climate change to one of climate emergency highlights the need to re-evaluate globally our engagement with alternative, sustainable energy sources. Civil society participation has seen the development and mobilisation of global networks of action at unprecedented levels. A grass-root campaign-driven Climate Emergency Declaration has already been adopted within over forty countries. Increased emphasis is being placed on shifting patterns of production and consumption towards more sustainable grounds, with sustainability education and increased regulatory practices providing important 'carrot and stick' incentives. The global relevance of these issues is highlighted in the way they permeate the entire UN Sustainable Development Agenda. Two of the Sustainable Development Goals focus explicitly on addressing the climate emergency: Affordable Energy (Goal 7), and Climate Action (Goal 13), while several others embed within them clear goals to pursue bio-diversity (Goals 14 and 15), sustainable technology and communities (Goals 9 and 11), etc.
On the other hand, within this broader trend, the invasion of Ukraine by Russia has exposed the volatility deriving from the reliance on traditional energy sources. As highlighted in a report by the World Economic Forum, the conflict has had seismic effects globally. Energy price and supply volatility (and their financial and economic consequences) are felt world-wide, with poorer countries bearing the brunt of these consequences. States have stepped up their engagement with energy policy changes with conflicting trends emerging: on the one hand, there is a renewed push towards renewable energy and technology, while on the other, there is regress through a return – in the short term – to coal use.
The purpose of the seminar is to explore current geo-political climate debates with a view to evaluate local, regional and global dynamics concerning energy security, sustainability and development.
You can view the full list of past International Student Seminar themes since the seminar first started in 2006 here.
Eligibility
Full-time students from INU member institutions who are willing to be challenged by an intensive academic and cultural program.
Each INU member universities will invite their students to apply to participate, usually in February-April.  Please do contact the INU Council Member at your University  to express your interest in participating, or contact the INU Coordinator for further information:  inu@kingston.ac.uk
Who should apply?
The student seminar is designed for highly motivated students who are interested in:
Increasing their understanding of political, economic, social and cultural challenges emerging in an increasingly globalized world
Understanding the notion of global citizenship and considering their potential as global citizens
Deepening their appreciation of the challenges and payoffs of cross-cultural and international engagement
Sharing reflections with students, academics, and other seminar participants.
Application and Selection Process
Each INU member institution determines the application and selection process for students at their university. For more information, contact the international office at your institution, or contact the INU Coordinator.
Practical Information
Students and staff will stay in the same hotel, close to the seminar venue at Higashi Hiroshima campus.  The hotel is booked for students by Hiroshima University, however the cost of the stay is to be covered by the student/staff themselves.
The program schedule, accommodation information and reading lists will be provided to selected students in advance of the seminar.
Questions?
Please do contact the INU Coordinator: inu@kingston.ac.uk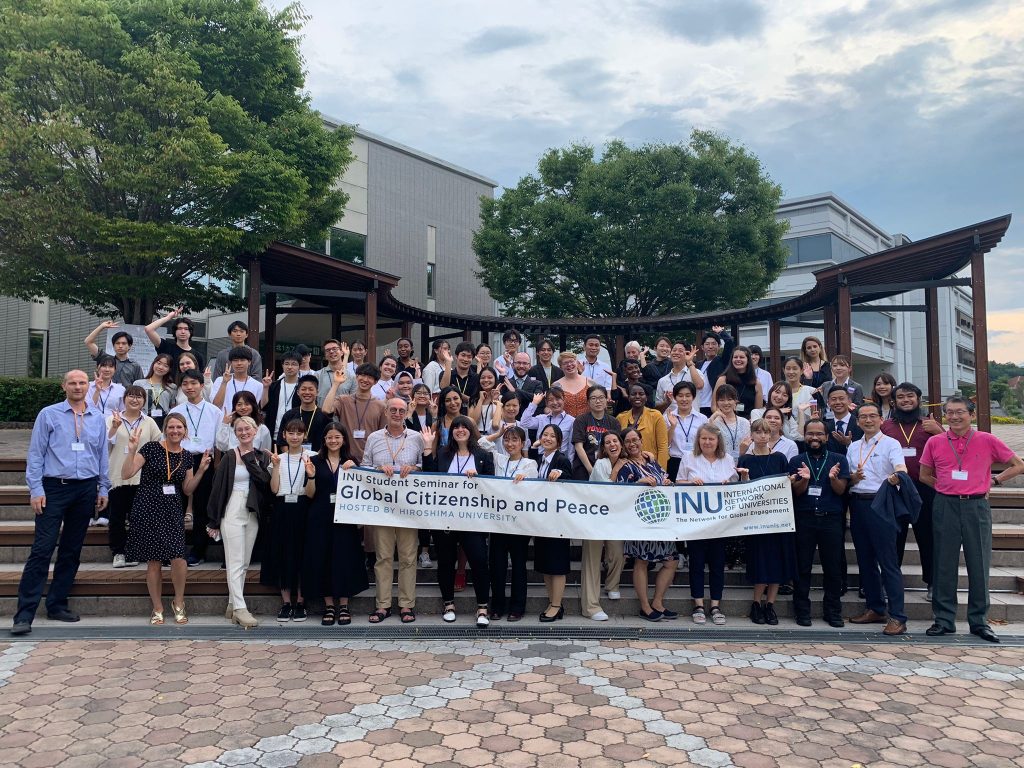 The INU Student Seminar features:
Lectures and workshops with academic experts and guest speakers from around the world;
Interactive seminars that encourage stimulating discussion and learning;
A role-play of a special session of the United Nations General Assembly;
A truly international student body
Highlights
"This was my first UN Role Play experience, and it gave me a greater understanding of gobal issues, especially when focusing on food and water insecurity"
"An incredible experience to have been able to share, learn and exchange with fellow students and teachers from all over the world and with different background"