Global Citizenship and Sustainable Futures: Learning for Change

International Network of Universities is launching a new online program which addresses a range of areas relating to Global Citizenship and the United Nations SDGs, open to all INU member students.
The Program:  Global Citizenship and Sustainable Futures: Learning for Change
This online program explores what it means to be a global citizen through learning and reflecting on a range of key global issues.  The learning objectives for students undertaking the program are:
To gain knowledge and an understanding of current affairs, the UN Sustainable Development Goals, global issues, and trends, whilst appreciating the complexity and ever-changing nature of these topics.
To be able to analyse and interpret information about own and other cultures and demonstrate a clear understanding of the complexity of elements important to members of one culture concerning its history, values, politics, communication styles, economy, or beliefs and practices.
To foster civic-mindedness and a sense of societal responsibility, promoting actions and activities that are motivated by or that show concern for the public good and the humanity as a whole and behaviour that is in the best interests of the environment and society.
Develop an understanding of and commitment to democratic principles and those of human dignity and respect, while recognising the diversity of experiences and global inequalities with regards to access to these rights and begin to suggest actions to improve this.
Program Structure
As part of the program, students will complete 3 core sessions and choose 3 option sessions.
Core Sessions
A critical introduction to United Nation's SDGs
How do we engage across cultures?
Reflective session
Choice of electives (students will select 3 out of 6 possible options)
Borders, modern slavery and human mobility
Peace education and reconciliation
Climate change and social inequalities
Food security
Gender inequality and violence against women
Inclusive and sustainable economic growth and consumerism
Participants will select their electives at the point of registration.  The maximum number of students for each elective is 30 students and the minimum number is 10 students for an elective to be able to run effectively.
Students are expected to complete the program within 12 months, although some flexibility may be possible in exceptional circumstances.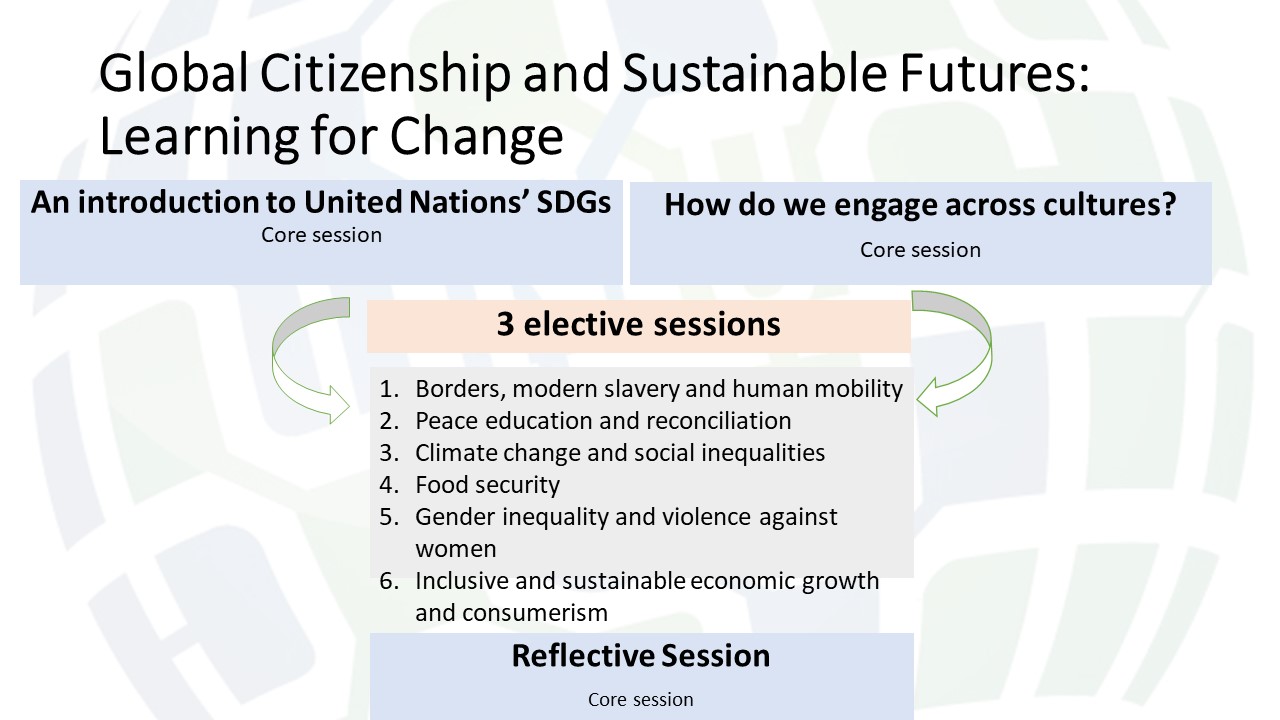 A global collaborative program, in design and delivery
Learning will be in collaboration with students from other INU institutions giving you the opportunity to interact with peers from across the world. The course will be fully delivered online through a mixture of pre-recorded content, live virtual sessions, and student group work/presentation.
The sessions and content will also be designed and delivered by lecturers from different INU universities across the world, providing you with the opportunity to explore different perspectives and enhance your learning experience.
Start dates
There are two intakes for the program each year, one in March and one in October each year.  The launch of the program is expected in March 2024.  Exact dates for each session will be shared in 2024.
INU member universities are spread across a broad range of time zones.  To accommodate as many time zones as possible, the sessions will run as follows:
Time Zones (GMT)

(November – March)

Time Zones (BST)

(April – October)

USA
08:00-10:00
08:00-10:00
Argentina
10:00-12:00
09:00-11:00
Sweden
14:00-16:00
14:00-16:00
UK
13:00-15:00
13:00-15:00
Germany
14:00-16:00
14:00-16:00
Spain
14:00-16:00
14:00-16:00
South Africa
15:00-17:00
14:00-16:00
Japan
22:00-24:00
21:00-23:00
Indonesia
20:00-22:00
19:00-21:00
Colombia
08:00-10:00
07:00-09:00
Ukraine
15:00-17:00
15:00-17:00
How to apply
Students who are enrolled at INU member universities are invited to apply to participate and will be selected by their home university.  Students from all disciplines and levels of study are welcome to apply.   Please contact your international office for details.
Completion of the program
INU will issue a certificate to students who have successfully completed the program within 12-18 months.   In order to successfully complete the program, students are expected to attend and actively participate in the required sessions in order to receive the certificate of completion from INU.  Individual INU member universities may choose to recognise the program also and provide recognition for participation.  Please ask your International Office for details.
Students must have fully engaged and actively participated in the program. Attendance will be monitored.
Contact
For further information, please contact INU coordinator who will be happy to help.