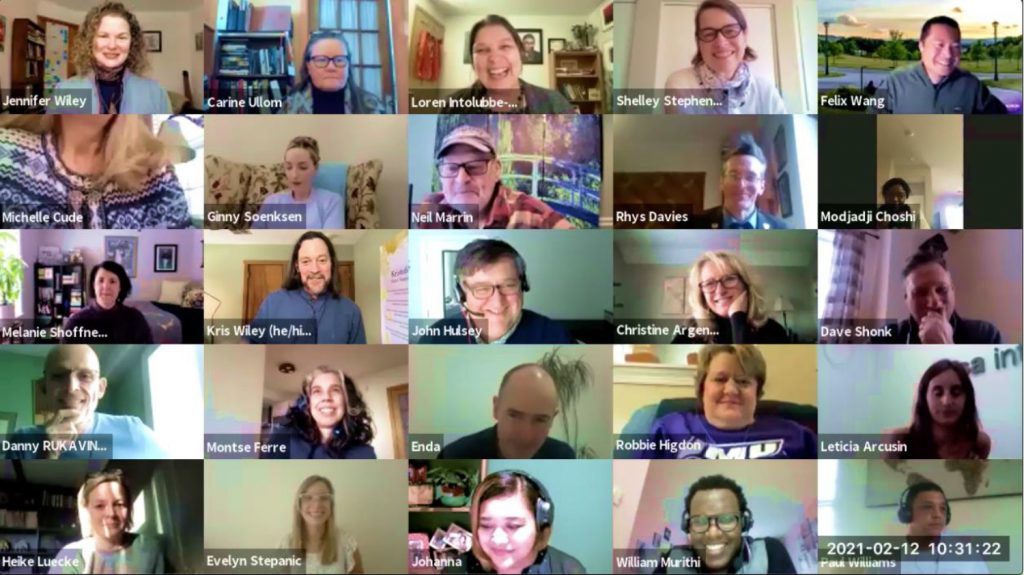 Faculty from across INU members explore Virtual Exchange (COIL), as part of professional development training funded by the INU.
The INU has funded 13 faculty across its members to participate in professional development training in the field of virtual exchange, which took place in February-March 2021.  The aim of the program, delivered by CoreCollaborative International (CCI) in the USA, is design to support faculty in building their capacity to design and deliver virtual exchange programs.
The 13 faculty from INU were part of a group of 25 participants, which included faculty members representing 4 continents and 18 nationalities, from wide array of disciplinary backgrounds from Food Sciences to Film and Business to Nursing.
The faculty undertook 6 modules which introduce academics to virtual exchange and enables them to work in partnership with each other.  Modules included Cultivating Intercultural Competence, Designing High Impact Learning Experiences and Making Virtual Exchange Sustainable.
CCI's instructional team uses innovative techniques to make the virtual environment personal and engaging.  An example of this is the "fishbowl technique" which is used to increase interest and engagement during large group debriefing of activities. This allows the viewer to focus on the voices and non-verbals of just a few individuals and allows the partisipants to benefit from a more intimate conversation.
Several new collaborative partnerships have developed among the participants. Here are a few examples:
Two faculty from UNL in Argentina (Economics and Epidemiology) and one faculty from JMU in the US (Nursing) are collaborating to create a virtual exchange program where students examine the financial ramification of COVID-19 on healthcare systems.
One faculty from De Montfort in England (Film) and two faculty from JMU in the US (Education Technology and Teacher Education) will partner to have their students collaborate around how society embeds meaning in the symbols people create.
A faculty member from Kingston in England (MBA) and JMU in the US (Nursing Administration) will ask their students to collaborate on understanding the cultural implications and assumptions of business plans.
Dr. Loraine Schutte from the Department of Nursing at Stellenbosch University commented  "I have already learnt so much from this course. My own experience with virtual teaching and learning was mostly related to sharing powerpoint presentations and adding some voiceovers or recordings. Now I am getting excited to have more interactive, more in-depth discussions and much more collaboration."
Leticia Milena Arcusin from Universidad Nacional del Litoral commented that "With Evelyn, my partner from UNL, we started working together with Modjadji (JMU)  on a collaboration proposal between both institutions.  We're very excited! We are meeting often and making progress on our project plan"
Another participant commented that "We have been able to establish a partnership with a teacher from JMU and we are designing together a Virtual Exchange experience. The course not only has given us the possibility to establish this partnership, but also gave us the tools to design it."
The training has certainly shown evidence of meeting the objective of the program for INU, which is to build and strengthen the capacity for global virtual exchange within the INU – a step to a sustainable global learning program that is here to stay beyond the global pandemic. It has also been an interesting way for academics across disciplines to explore how they can work collaboratively for the benefit of their students.
CoreCollaborative founder, Dr Jennifer Wiley, commented that "Our instructional team was so impressed with the way the INU faculty coalesced as a group, generated ideas for cross-disciplinary virtual exchange experiences for their students, and, most importantly, developed genuine fondness for one another through a globally challenging time."
The course has facilitated the cooperation of academic staff across the INU network and set the stage for building future relationships needed for successful collaborative teaching experience.
Many thanks to the faculty who participated and to Dr Jennifer Wiley and her colleagues at CoreCollaborative International for delivering such a beneficial programme, at a time when deepening virtual engagement and creating more meaningful intercultural learning experiences is so vital.
For further information on INU activities and opportunities, please contact INU on inu@kingston.ac.uk
For further information on CoreCollaborative programs, please contact Dr Jennifer Wiley on jennifer@corecollaborative.com
"The course offered an accessible introduction to and overview of virtual exchange. The ability to engage in a form of virtual exchange while learning how to create and implement such in our future teaching was an effective means to model these concepts."
"A better understanding of the learning process makes me reflect on how to improve my teaching practices"