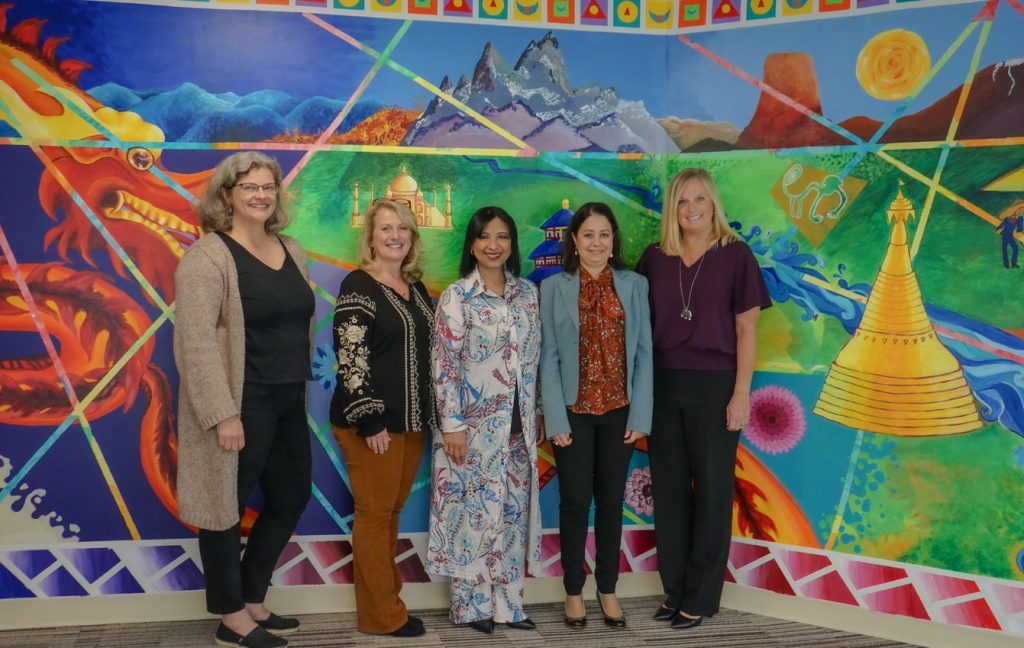 "​INU's Researcher Mobility Program provided an excellent opportunity to meet colleagues face to face, expand the network for research in nursing and identify long-term potential for collaboration."   Dr Helena De Rezende, Senior Lecturer in Nursing Research (Kingston University, UK)
In October 2022, as part of INU's Researcher Mobility Program, Dr Portia Jordan, Executive Head of Department, Nursing and Midwifery at Stellenbosch University, South Africa and Dr Helena De Rezende, Senior Lecturer in Nursing Research at Kingston University, UK spent two weeks visiting the School of Nursing at James Madison University (JMU) in USA to explore areas of collaboration in the field of Nursing, to develop meaningful collaborations across multiple INU member institutions.  Hosted by Christine Argenbright, Associate Professor of Nursing at JMU, the researchers have a shared research interest in evidence-based practice and patient safety education, with a focus on developing students' intercultural competencies and leadership skills needed in an increasingly globalized world.
The visit coincided with the launch of the INU-funded Seed Money Fund Project, "The Use of Virtual Learning Spaces to Cultivate Cultural Competency and Leadership for Global Citizenship in Nursing, a project which uses a virtual platform to enable students and staff from 6 INU member universities to globally engage, share experiences and perspectives while enhancing cultural competency and cultivating necessary leadership skills to function in an everchanging globalized world.   The project aligns with the vision and mission of INU, aiming to combine resources, knowledge, and skills of six of the consortium universities in supporting global citizenship and leadership
Being together in the same physical space for this first session, contributed to the success of the session, and allowed for a face-to-face debriefing on the session and data collected in the project.
Furthermore, planning for the data analysis and future research projects was discussed. The additional exploratory conversations with the faculty was a value-added benefit to the visit.
The INU nursing group have been working together since 2017, and this is the second research and educational project planned and implemented, and research projects between the institutions are currently being explored.
The connections made with the Provost, Academic Affairs, Centre for Global Engagement and College of Health and Behavioural studies at JMU has permitted to initiate conversations about the extension of study abroad, students and staff mobility between the nursing schools.
Portia commented "Being a global citizen is to understand interconnectedness, values and respects diversity, and to transcend beyond social, racial, political and geographical borders in an attempt to understand the world and humanity better."  Thank you INU for promoting and making it possible for us to enhance global citizenship.
The INU Researcher Mobility Program will open for a new round of applications in January 2023.
For more information, or to connect with colleagues working within the INU Nursing Collaborative, please do email inu@kingston.ac.uk