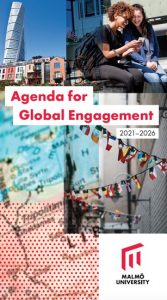 Aiming to improve life through global engagement and inclusive international collaboration
It is finally here! After over a year of dedicated work the Malmö University proudly presents its new Agenda for Global Engagement. The ambitious agenda is a strategic road map for internationalisation for the coming six years with the aim to enhance the University's global engagement.
Moving forward with purpose 
"The agenda should be seen as a road map to enhance the integration of internationalisation and global engagement in our research, education, collaboration, and administration. It is not something that stands separately. It needs to intentionally be woven into our activity plans and continuously followed up in line with our quality framework", explains Cecilia Christersson, Pro-Vice-Chancellor for Global Engagement and Challenge Based Learning.
This is not something that can be achieved alone. It is about co-creation and international collaboration to generate quality and new dimensions. By purposefully driving forward internationalisation, the agenda is a tool to manifest the University's societal commitment and contribute to a more sustainable world.
The agenda's goals span four key areas to strengthen the University as a university with globally competent students; a university with research for global impact; a university with global outreach; and as an inclusive global university.
Read more about Global Engagement at Malmö University